I'm writing this blog post as I head out to Blog World and New Media Expo. I'll be on a panel talking about things to think about when hiring a Vendor. But strangely enough,  this blog post isn't about my session. Instead it's about the session that's happening directly after. Reggie Nicolay of My Tech Opinion will be talking about Integrating everything into "One Site". I'm really looking forward to the session as it's a topic that I 100% agree with. I think it's vital to real estate agents building a successful online marketing presence.
Seamless Integration Across All Sites
Members of Dakno All Access are already very familiar with the "One Site" concept. I've been hammering it to them for quite some time. But for everyone else let me give you a quick breakdown of why I think the One Site concept is so important.
So Should I Dump my Other Sites?
Having "one site" doesn't mean you should get rid of your other web sites. Just the opposite. I think having a real estate website, IDX search, Blog, PhotoBlog and Posterous account are all great things and important pieces of your total online marketing strategy. But here is the key, all of those sites should "look" like they are a part of one site. And that's where so many real estate agents fall short.  They jump on WordPress and pick a theme for their PhotoBlog. Next, they run over to Posterous and sign up for an account. What they are left with is a jumble of sites that have no brand or navigational consistency.
More than Just Branding
Having a consistent look across these solutions is obviously important for branding. But that is just one aspect of why the "single site solution" is so important. Let's face it, while it's fun to snap photos and push things to Posterous, at the end of the day, it's all about selling real estate. And that is the main reason why you need the integration of a single site. Let me give you an example. Your ultra search engine optimized Photo Blog drives traffic from search engines. They arrive at your PhotoBlog and look through your photos. Okay now what? If your PhotoBlog is designed to seamlessly integrate with your website (having the same look and feel) it's easy for your visitors to naturally explore other areas of your site including your Home Search. And after all, that's really where the leads are going to come from. On the other hand, if your PhotoBlog has just a run-of-the-mill free theme from WordPress, there's really no easy way for the visitor to seamlessly migrate over to your Home Search, Market Stats, etc. Sure, you can put a link in the sidebar but the site visitor then gets jolted over to a totally different looking site. They'll often think they clicked on an ad to a site not even affiliated with the PhotoBlog.
An Example of Seamless Integration
Take a look at the graphic below. It shows a Website, Blog, PhotoBlog and a customized Posterous site. One thing you will notice is that even though these are different sites (some of them even on different servers) the experience to the site visitor is that they are clicking through a Single Site. This truly allows you to pull in the best of all worlds – The ultimate Hybrid site!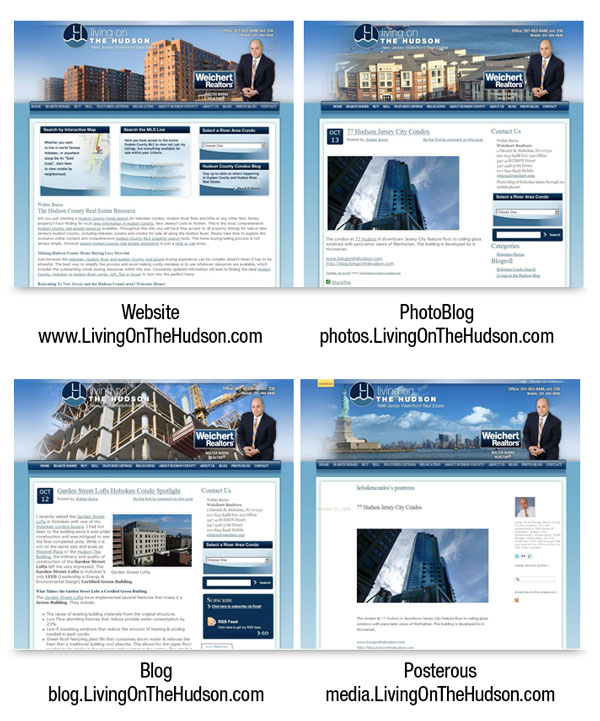 Automation – Keeping Things Updated Without Worries
Another important aspect of this is keeping the design in sync. After all, you'll want to refine your look based off of site visitor feedback and analytics. And who wants to have to make those changes across multiple sites.To get around that, your other sites should contain dynamic themes that automatically replicate the look of your main site. For example, in the example above, these sites are actually synced to in terms of design. This means that if Walter Burns, wants to change the menu or graphic on his Living On The Hudson website, that change will be instantly reflected in his Blog and PhotoBlog. This even holds true for if he chose to totally redesign his site. The themes dynamically update based on the main website's design. That means that Walter can spend time focusing on selling real estate in Hoboken NJ and not have to worry about code and design.
Reggie and The Single Site Solution(s)

Hmmm, sounds like a new band. Anyway, that's my take on some of the benefits of the single site concept. I'm really looking forward to hearing Reggie's take. In fact, I'll do a follow up post to add in the additional insights that Reggie gives. I know him well enough to know that it's going to be an informative and thought provoking session! So if you happen to be at RE Blog World. Check out the session on How To Choose a Vendor. Then stick around to hear Reggie discuss the Single Site Solution!
Are You Using a Single Site Approach?
If you are currently using a single site approach, let us know by leaving a comment. I would love to hear your thoughts.
P.S. In an upcoming soon to be published post, I'll share my reasons why you should use the power of one domain and sub domains to earn greater Google Bucks! Stay tuned!!!