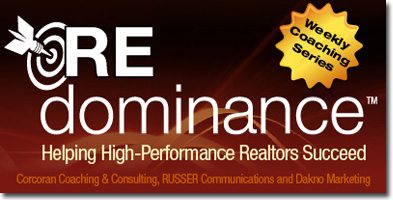 At Dakno, we always strive to provide agents with resources to help them get the most out of their marketing efforts. That's why when Michael Russer (a.k.a. Mr. Internet) and Bob Corcoran, of Corcoran Consulting & Coaching, came to us with the idea to offer free weekly webinars to agents, we jumped on board.
Free Weekly Webinars Starting This Tuesday
Tuesday, February 7th at 5pm (eastern) will be the official launch of REdominance – A free weekly coaching and training webinar to help you stay ahead of your competition. I'll be kicking things off with a session on Online Lead Generation. In this webinar, I'll lay out a clear road map that you can immediately implement to find the low-hanging fruit that so many agents overlook in their quest for "more leads." So, go ahead and take a moment to register for the webinar. I'll wait here until you get back.
Each week, either I, Michael Russer or Bob Corcoran will personally lead the webinar based upon our respective expertise.  This means you continually get new ideas, tools and strategies that you can apply immediately to your business –whether online, offline, systems, teams, VAs, SEO and more.
Our Promise: A No Pitch Zone
Don't worry, these webinars will be jam packed with free strategies and information but devoid of pushy sales pitches. Our goal is to simply be a resource to help you succeed.
The Companies Behind REdominance
REDominance (for Real Estate Dominance) is made up of a Strategic Alliance of the top three leading-edge coaching and marketing firms in the industry. I'm sure you are already familiar with them but, just in case, here's a quick overview:
Dakno Marketing – Led by yours truly, our marketing strategies help agents and brokerages leverage the internet to grow their business.
Corcoran Coaching & Consulting – Led by CEO Bob Corcoran, the company focuses on turning high-performance Realtors into CEO's of their own team through systems, offline marketing and team building.
Online Dominance – Led by CEO Michael Russer (a.k.a. Mr. Internet®) is the industry's only online niche marketing, online lead conversion and Virtual Assistant coaching company.
The Details
The weekly webinar will take place every Tuesday from 5pm-6pm (eastern). Note that you must register to get access to these free webinars. So go ahead and sign up. You have nothing to lose and everything to gain.
As always, we want to hear from you. If you have any ideas on topics or just want to give us some feedback, feel free to chime in below in the comments.
To Your Success,
Brad Carroll