With Thanksgiving less than 2 weeks away, now is the perfect time to pause and give thanks for what we have. It's also the perfect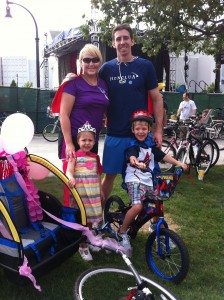 time to consider how we can help others. If you recall, last year Dakno partnered with a local non profit called The Triangle Spokes Group. The goal of this incredible organization is to provide brand new bicycles and helmets to needy kids who can't afford them. As a partner with Triangle Spokes, Dakno will be seeking to surpass the number of bikes we contributed last November of 2011 and you can help!
Buy a Dakno Site – Give a Bike!
During the entire month of November, for every Dakno real estate SwiftSite, SwiftBlog or Hybrid website purchased, Dakno Marketing will donate a new bike and helmet to be given to a need-worthy child this Christmas. We are already experiencing a tremendous month of sales and we believe the best is yet to come!
The Fulfillment of Giving!
Several Dakno staff members had the rich opportunity to participate in the Triangle Spokes bike distribution last year at the local Salvation Army Distribution Center. You can't imagine the absolute joy on the faces of the moms and dads who received a bright, shiny new bike and helmet for their children. It was an unforgettable experience and one we wish to participate in again this year!
Make a Difference in Your Marketing and for a Deserving Child this Christmas!
If you, or someone you know are interested in taking your online marketing to a new level with a dynamic, lead generating real estate website, (or if you are already a valued Dakno client and wish to make a donation here), now is a great time to do it. By partnering with Dakno and Triangle Spokes Group you will help yourself and help meet the goal of donating 500 brand new bicycles to kids in need this Christmas. You will not only improve your real estate marketing and your business, you will also help surprise a child this holiday season with a brand new bike.
If you just want to make a donation of any size, feel free to do so here.
Happy Thanksgiving,
Bobby
Content authored by Bobby Carroll