Who's Your Audience?
The first lesson I learned as a Dakno copywriter is that you should write with one person in mind. Realistically, you can't market one house or condo to everyone. Different home buyers and sellers have different real estate needs.
Writing neighborhood copy is like shirt advertising. School and work attire differ, so teenagers buy vintage-looking Marvel comics t-shirts while adults make a beeline for the collared button-downs. It wouldn't make much sense for Nordstrom to market a black dress shirt to a 15-year-old high school sophomore.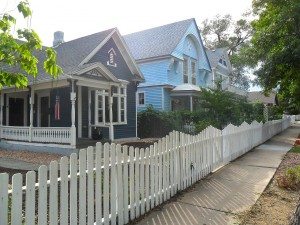 Tailoring a neighborhood content page is similar. You wouldn't market a neighborhood right across the street from the best hospital in the country to a recent college grad (not even the most accident-prone). When you're writing information about a neighborhood or area, it's important to know who your audience is.
I'm guilty of trying to swing my copy to everyone. But pulling from the National Association of REALTORS' 2015 home buyer and seller trends, here are a few key differences among the generations of homeowners that we should all keep in mind when writing about neighborhoods and areas.
Moving Millennials
Bobby touched on this generation in his great article about Millennials' presence in the housing market. Millennials are beginning to raise families and desire to buy homes in safe neighborhoods convenient to work and schools.
But they themselves are just coming out of school, most of them with student loan debt. Saddling both student loans and home mortgages, they're looking for a truly affordable home. Fixer-uppers and previously owned older homes are the ideal for Millennials, who can spruce up their living spaces themselves and build some "sweat equity."
When writing copy for Millennials, focus on:
nearby schools
large home lots
childcare facilities
first-time home buying and selling resources
Grooving Generation X
Born between the 1960s and 1980s, Gen-Xers are in the flow of working and child-rearing. Like Millennials, they too are looking for quality schools and commuting convenience.
But multi-generational living is surging among Gen-Xers. Their children are moving back home and their parents are moving in to save money, strengthen the family ties, or other reasons.
When writing copy for Generation X, focus on:
number of bedrooms
convenience to work
single-family homes
mother-in-law suite
agent's reputation
Baby Boomers Keep Busy
Baby Boomers are young at heart and desire active communities near walking and biking trails. Living, working, and playing in the area is a top priority.
These home buyers, ages 50 to 68, are very mindful of the future, expecting to live in their home for 20 years. They tend to relocate to be closer to family and friends.
When writing copy for Baby Boomers, focus on:
lifestyle
amenities
number of floors
low-maintenance yards
townhomes
Classics Never Out Of Style
Classics, home buyers and sellers between age 69 and 89, are focusing more on retirement. They want to move closer to family, and are willing to relocate many miles to their new homes.
They are focused on family and community over home upkeep. Since older homes can pose problems with plumbing and renovations, Classics are drawn toward newer homes.
When writing copy for Classics, focus on:
healthcare facilities
amenities
new homes
nearby shopping
low-maintenance yards
The Fair Housing Act
There are some things we just cannot say when writing real estate copy. In protecting classes from discrimination, the Fair Housing Act sometimes limits ways we can describe a neighborhood or area. Use caution when writing, and avoid terms like "walking distance" and "perfect for families" to keep with fair practices.
Marketing Your Neighborhood
Putting a unique spin on neighborhood descriptions takes time and effort. Let us know if we can help you identify your audience or market your neighborhood pages.