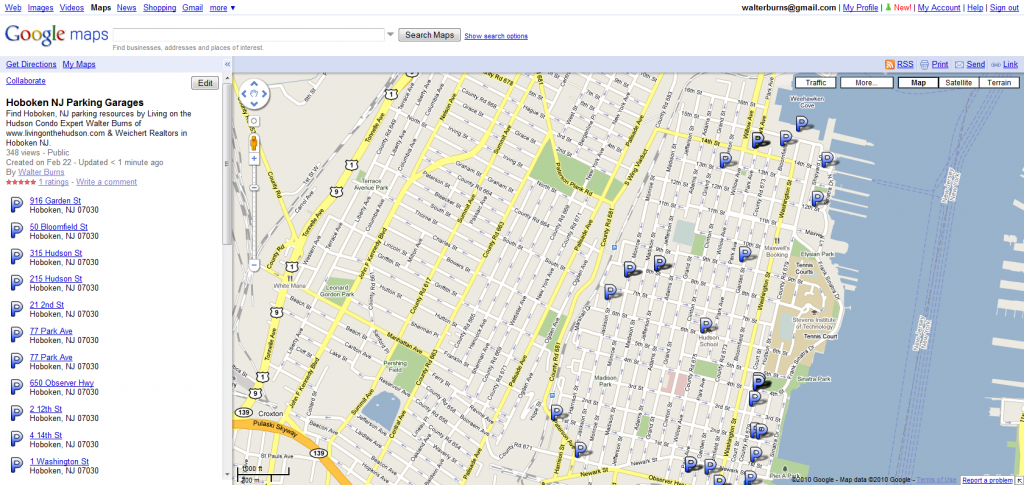 The other day I was reading a terrific post by Stephen Fells on the Agency Powersites Blog. Stephen wrote an offbeat humorous post on the unusual images the Google Streetview van has captured in it's endeavor to map the US. After my chuckle, it came to me the real power of a Google Map and how agents need to take advantage of creating a map using MyMaps by Google!
Real Estate Agents – Tap into the Riches of Google MyMaps!
A well developed Google map is a powerful tool for a web-savvy real estate pro. By creating MyMaps with your Google Profile you can meet the needs of consumers and drive traffic back to your "hub", which is your website and blog. The Dakno Team created a MyMap for Hoboken Condo Specialist Walter Burns on Feb 22. In the 4 days the Walter's Google map has been live, the map has been viewed by 350 visitors!! How cool is that!! Plus, we are adding a web link from every plotted location of every Hoboken parking facility back to a nearby Hoboken condo building! Now that's high value information that's sure to please!
Does Your Map Meet a Need?
One of the primary pain points in Hoboken is the running joke about the lack of parking for condo owners. The Google map with plotted public and private parking facilities should continue to be a big hit for Hoboken condo buyers and be yet one more conduit of traffic back to Walter's LivingontheHudson.com website. Agents should think about what high-value map would fulfill a need in their area and create a map with their Google Profile. Maybe you should create a map of all the local area golf courses, how about a map of free wifi locations in your area, have you considered a map for beach access points along your shore? If you are a target market specialist, why not create a map around your specialty? Be creative and meet a need!
There's Map for That!
Have you created a Google Map and is it a traffic generator for your website and blog? If so, leave a comment and share your map link for all of us to see.
Thanks again Stephen for making me smile! 🙂
Bobby-@rewebcoach