Because we are strong advocates for learning, Dakno is a partner with one of the fastest growing phenomenons in the real estate industry – RE BarCamps! If you are a local volunteer planner and would like to add your RE BarCamp to this map and list, please DM (direct message) either Brad @dakno or Bobby @rewebcoach with the details and we will gladly add your location to this page.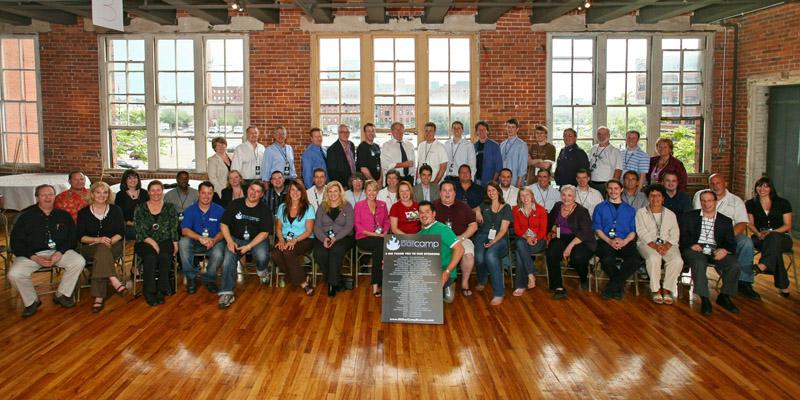 RE BarCamp Seattle
09/8/2009
The Lake Union Armory Building
Seattle, WA
RE BarCamp Seattle Website | #REBCSEA
RE BarCamp Miami – Dakno.tv Live Streaming
09/14/2009
The Temple House – South Beach
Miami, FL
RE BarCamp Miami Website | #REBCMIAMI
RE BarCamp Silicon Valley
10/5/2009
Axis, a luxury high-rise condo development in downtown San Jose
38 N. Almaden Blvd., right behind the DeAnza Hotel
RE BarCamp Silicon Valley Website | #REBCSV
RE BarCamp Bellevue (Mini-RE BarCamp)
10/6/2009
Location: Meydenbauer Center
Bellevue, Washington
RE BarCamp Bellevue Website | #REBCBELL
RE BarCamp Lynchburg – Dakno.tv Live Streaming
10/08/2009
Holiday Inn Select
Lynchburg, VA
RE BarCamp Lynchburg Website | #REBCLBG
RE BarCamp Pittsburgh
10/21/2009
Holiday Inn Crown Plaza – Pittsburgh South
Bethel Park, PA
RE BarCamp Pittsburgh Website | #REBCPIT
RE BarCamp DC
10/27/2009
TBD
Washington, DC
RE BarCamp Washington DC Website | #REBCDC
RE BarCamp Indy
11/2/2009
Sheraton Indianapolis City Centre Hotel
31 West Ohio Street
Indianapolis, Indiana 46204
RE BarCamp Indianapolis Website | #REBCINDY
RE BarCamp RDU
11/6/2009
Triangle MLS, Inc. 111 Realtors Way
Cary, NC 27513
RE BarCamp Raleigh/Durham Website | #REBCRDU
RE BarCamp San Diego
11/12/2009
TBD
Still in planning stage
San Diego, CA
Other RE BarCamps on the Horizon
RE BarCamp Toronto – Details Coming Soon!
RE BarCamp Albuquerque – Details Coming Soon!
If you are helping plan a future RE BarCamp, please comment or contact us with all the details of your RE BarCamp so we can help you promote your event.
Past RE BarCamps
RE BarCamp Columbus, OH – Archived Videos Coming Soon!
08/20/2009
Hyatt on Capitol Square
75 East State Street
Columbus, Ohio
RE BarCamp Columbus Website | #REBCOH
RE BarCamp San Francisco – Archived Videos Coming Soon!
08/04/2009
208 Utah Street
San Francisco, CA
RE BarCamp San Francisco Website | #REBCSFO
RE BarCamp Virginia Beach – Archived Videos Are NOW Available!
Visit www.dakno.tv for video archives
7/16/2009
507 Hilltop Plaza Shopping Center (Buffalo Beach)
Virginia Beach, VA 23454
RE BarCamp Virginia Beach Website | #REBCVB
RE BarCamp Orange County
6/25/2009
Newport Beach, CA
RE BarCamp Orange County Website | #REBCOC
Chicago RE BarCamp
Visit www.dakno.tv for video archives
06/15/2009
200 S Wacker Dr
Chicago, IL
RE BarCamp Chicago Website | #REBCCHI
RE BarCamp Boston
06/12/2009
The Loft – 319 A Street
Boston, MA
RE BarCamp Boston Website | #REBCBOS
RE BarCamp Salt Lake City
06/05/2009
230 W. Towne Ridge Parkway, #200 (the Salt Lake Board of Realtors Campus)
Sandy, UT
RE BarCamp Salt Lake City Website | #REBCSLC
RE BarCamp Philadelphia
Visit www.dakno.tv for video archives
05/27/2009
GPAR, 1341 N. Delaware Ave. – Suite 200
Philadelphia, PA 19125
RE BarCamp Philadelphia Website | #REBCPHL
RE BarCamp Denver
05/22/2009
7100 East Belleview Avenue, Suite 211
Greenwood Village, CO
RE BarCamp Denver Website | #REBCDEN
REBarCamp Charlotte
Visit www.dakno.tv for video archives
05/15/2009
1000 Seaboard Street (The NC Music Factory)
Charlotte, NC 28206
The NC Music Factory Website
RE BarCamp Charlotte Website | #REBCLT
RE BarCamp Portland
Visit www.dakno.tv for video archives
04/23/2009
622 SE Grand Avenue
Portland, OR
RE BarCamp Portland Website | #REBCPDX
RE BarCamp Phoenix
04/23/2009
7408 E. Osborn Road
Scottsdale, AZ
RE BarCamp Phoenix Website | #REBCPHX
RE BarCamp Los Angeles
Visit www.dakno.tv for video archives
04/02/2009
168 South Los Robles Avenue
Pasadena, CA
RE BarCamp Los Angeles Website | #REBCLA
RE BarCamp Virginia
Visit www.dakno.tv for video archives
03/03/2009
14945 SW Sequoia Parkway, Suite 150
Fredericksburg, VA
RE BarCamp Seattle
02/13/2009
999 3rd. Avenue, Floor 41
Seattle, WA
RE BarCamp New York
01/07/2009
New York Marriott Marquis
New York,NY
RE BarCamp Houston
10/22/2008
29955 I-45
Shenandoah, TX
RE BarCamp San Francisco
7/22/2008
The Swedish American Hall
San Francisco, CA