But before you hop onboard for that ride, I want to ask you a question. When do you really feel fulfilled? What is it that you do that helps give you joy? Most say it's the act of giving.
I'm a Just Big Kid at Heart!
If you know me you know I'm just a big kid in a 60 year old body. I still get excited about the holidays. Plus, the holidays stir strong, positive memories in me. I suspect they do the same for you.
Some of my most memorable holidays are the ones I actively took part in giving. Sure, it's easy give a present or toss money in the red kettle. But I'm talking roll up your sleeves and being part of something really grand!
Give Local!
A local grass roots organization called the Triangle Spokes Group has been my "vehicle" (bad pun!) to give back in a small way to my community in recent years. Organized and run by two local dynamo Triangle REALTORS, Ashley Wilson and Jenn Nowalk, Triangle Spokes helps raise 100% of its proceeds toward buying, and assembling bikes (with a helmet) to distribute to need-worthy children in the Triangle every year during the holidays.  I've been a part of the distribution of these bikes at the local Salvation Army distribution center and it's a special treat. To see the look in the eyes of moms and dads as they claim a bike and helmet for their kids is incredible. Talk about feeling alive!
This year's goal is 550 bikes and that's a tall order, but with your help it can be reached and exceeded.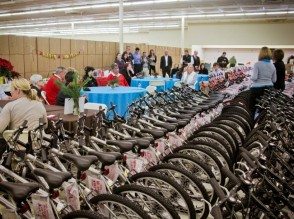 Here at Dakno Marketing, we are a partner with Triangle Spokes Group. One of the ways we participate each year is to give a bike for each site we sell during the month of November. So for every Dakno real estate SwiftSite, SwiftBlog or Hybrid website purchased, Dakno Marketing will donate a new bike and helmet to be given to a need-worthy child this Christmas. We are already experiencing a tremendous month of sales and we believe the best is yet to come!
If you have been thinking about investing in your real estate marketing, November would be a great time to create your marketing hub and be part of something really grand. Something significant!
If you are already a Dakno client, we invite you to partner with us by making a donation of any size to Triangle Spokes. It's really easy. Just click over to the Triangle Spokes Group page here.
Thank you everyone for partnering with us as we help bring awareness to this awesome organization. Let's make this holiday extra special for local Triangle area need-worthy kids and donate a bike and helmet today!
Happy holidays,
Bobby
P.S. For those who are local, the 4th Annual Kick Off The Holidays Lonerider Party will be held Wednesday, November 20, 2013 from 3pm to 10pm. This is a fun event each year with music and an auction with a portion of the proceeds going to Triangle Spokes. The music and auction are from 6:30-10pm.
Where: Lonerider Brewery 8816 Gulf Court, Ste 100 Raleigh, NC 27617
Optional Door Charge with 100% of these proceeds going towards the 2013 new bike purchase of 550 bikes gets you an entry into the raffle/door prize.
Silent Auction featuring great gifts from area businesses, trips, sports memorabilia, tickets, etc with proceeds going towards the 2013 new bike purchase.
Great award winning beer from locally owned, operated and brewed Lonerider Beer including the popular Shotgun Betty, Sweet Josie, Peacemaker and limited edition Outlaw Releases. 50% of all beer sales will go towards the 2013 new bike purchase. 100% of tips go towards TSG.
Live Music from Chris Hendricks and a food truck!
Sign up here and let us know you are coming! Grab your friends, family, neighbors and co-workers- the more the merrier! Special thank you to Lonerider Brewery for being such a great host, partner and supporter of Triangle Spokes Group.