2014 was an incredible year for Dakno! And we have our clients, friends and team to thank for that. It was also a tremendous year of change. What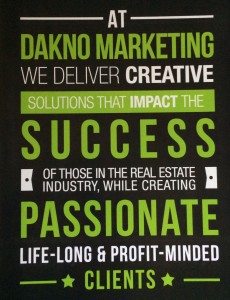 fueled this change at Dakno was rooted in our desire to see our clients' business experience even more success.
Our mission is to deliver creative solutions that impact the success of those in the real estate industry, while creating passionate, life-long, and profit-minded clients.
2014 – Year in Review!
It would be easy to go on and on about how our innovative development team produced our suite of contact management tools. Now this suite of tools is fuller and more powerful than ever. Leveraging those tools, we are seeing our clients experience stronger lead conversion.
We also saw 2014 as a pivotal year that helped put an end to the madness of agents buying stand-alone tools. We heard you loud and clear! You wanted mission-critical tools like email marketing, a followup reminder system, and a contact task management system all integrated inside your DaknoAdmin panel.
You also stated you wanted to aggregate ALL your leads from any lead source in your site Admin! Bingo! You've got it!
And because of our incredible dev team, you can offer unlimited lead management access to your CRM for all your agent team members. The days of buying CRM licenses for each member of your team have thankfully come to an end!
Amazing Real Estate Web Design for Mobile!
Thinking mobile first, our website designs produced by our creative division are more powerful than ever. From our responsive, cost-effective Vesta Theme that can flex to any agent/team model to our custom, responsive-designed solutions, there's an impactful web design package for every budget from single-agent sites, to team-based sites to brokerage-level, cloud-based web marketing solutions!
Real Estate Marketing for 2015
For 2015, real estate pros will need to focus more on their business and less on chasing shiny tools. For our clients, 2015 is the year for unprecedented  "lead conversion"!
Because client success is always at the heart of the matter, in 2014 we crafted monthly marketing packages for our busy clients who found spending time on the gooey details of optimized content creation, maximized content promotion via social media and all the other elements of the new world of real estate SEO to be a huge challenge.
That way you are free to focus more on lead conversion and belly-to-belly marketing with your prospects and your clients.
Practical Real Estate Marketing
I'm a practical guy. When I hear economists talk about market opportunities my brain begins to spin. I ask, what strategies will we execute using our Dakno marketing packages and tools to take advantage of such opportunities?
As I read projections for the 2015 real estate market by NAR, here's my question…
"What steps are you taking in your marketing plan to meet these 2015 REALTOR Magazine predictions?"
In case you missed them, below are the 10 reasons the real estate market will rock in 2015 according to the REALTOR Magazine.
Mortgage rates will rise.

Pro Marketing Tip: Equipping Millennial home buyers with financial tools on your website like your mortgage calculator will be a must! Because of credit issues and college debt, these consumers will need to be offered a simple form to sign-up for a mortgage pre-qualification.

Return of the 3 percent down payment.

Pro Marketing Tip: Create saved searches for affordable properties that qualify for buyers in this 3% down category.

Housing affordability will decline. 

Pro Marketing Tip: Price-sensitive buyers will especially need expert help with their transactions. Seek creative ways to help reduce closing costs. Use "how to" video tips to educate buyers. Leverage email marketing to inform consumers where your market is headed.

New-home sales will rebound.
Foreclosures will recede to pre-recession levels.

Pro Marketing Tip: Distressed property experts will need to transition to other niche opportunities. This will probably mean your website will need to "flex" as well to this new reality.

Drop in oil prices will boost housing.

Pro Marketing Tip: This drop could impact and spur new home construction. Be prepared to offer saved searches for new construction properties especially for Millennial home buyers.

Rent rises to outpace home-value growth.

Pro Marketing Tip: Many experts believe 2015 will be the year for first time buyers. Your blog posts, web articles and saved IDX search pages should be crafted to show value to this active segment of buyers. Guide these new buyers by educating them to the process. Create infographics like the one from Linda Craft & Team below.

Stronger economy leads to greater confidence.

Pro Marketing Tip: Temper this confidence by offering video tips for buying and selling on your blog and website in light of this invigorated economy.

Home prices will continue to stabilize.

Pro Marketing Tip: Home buyers and sellers need to be given regular doses of reality especially when they read these types of headlines. That means offering easy-to-digest sold data. It's important you maintain this data on your website so consumers are knowledgable. This will also help you better manage expectations.

Uptick in the Millennial work force – jobs and the real estate market are forever tied together.

Pro Marketing Tip: Ensure your web content and property search tools provide Millennials detailed neighborhood info, school info, nearby child care facilities and homes equipped with high-speed internet.
Your Feedback?
What marketing strategies are you going to implement in light of these 10 reasons the real estate market will rock in 2015? We would love to read your comments below!
Until my next post,
Bobby