A Marketer's Honest Opinion of Blogging
As I was considering a title of this post I was reminded of my 8 year old grandson, Ethan. When "E" is impatient or disengaged, like other kids his age, he will unload his one word mini rant – "BORING". When a local marketing pro says "blogging is boring", I sit up and take notice. Nikol Murphy with Talking Moose Media unloaded her refreshingly honest opinion of copy-based blogging during the recent Illuminate Spark Session at the Vend Raleigh Mompreneurs Conference.
Blogging is Hard!
Watch the video below from this highly entertaining session. Nikol did an awesome job communicating how Mompreneurs can leverage the power of Google Plus Hangouts. Nikol effectively expressed her feelings how impactful video and "fun" Google+ Hangouts can be. Checkout the YouTube frame below. Here Nikol gets in "live theater mode" and acts out in her "happy dance" how video grabs the attention of your audience!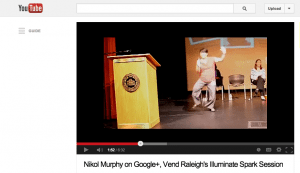 Why Blogging Can be Challenging

At 2:30 minute mark of Nikol's presentation she makes a frank confession. She "hates" blogging! Sorry Nikol, the secret is now out!
The list below highlights some of the frustrations many have in common with Nikol. I'll bet some of my Dakno real estate agent clients share her feelings.
Nikol loves the ease of video but loathes writing a blog
For Nikol, writing a blog is hard and too time consuming
She doesn't know "what to say" or how to "come across"
She feels a blog is boring
To Nikol, a blog lacks impact, fails to convey her true voice (personality) and seldom accurately communicates her expertise
The Timely Juxtaposition of Nikol's Confession and Mark Traphagen's Recent Post!
Sorry, I had to use the term "juxtaposition"! It seems to be the "word" of the month for other marketing blogs.
Anyway, Google Plus Pro Mark Traphagen with Virante recently wrote a post titled "Powerful Personal Branding via Content, Social Networking, & SEO". The timing of Mark's post and Nikol's comment converged to form the perfect opportunity. In Mark's post, he eloquently shares how important it is to leverage content, and effectively share content to build a powerful, trusted personal brand. We all know a blog is one of the essential core elements of the online marketing hub. A blog is also one of the critical keys for search engine optimization (SEO) for online visibility. I highly recommend you read Mark's post!
Knowing the importance of a blog as a tool in content marketing, let's see if I can help make it easier for Nikol to "write" on her blog.
5 Easy Blogging Tips for Nikol Murphy (and everybody else who feels the same way she does about blogging)!
Blogging need not be a huge time suck. Repurpose that same email you send time after time. It's sitting in your sent folder waiting to be shared as a blog post.
Occasionally get others to be content generators for you. Create a set of interview questions and have the interviewee provide the answers for the questions for your post.
Use a YouTube video as the bases for a post. If you're as passionate as Nikol is about video, writing a post about a video will be easier.
Embrace tech tools that make blogging easier. Apps like Dragon (voice to text) make blogging easier. Give Soundcloud a try.  Post snippets of audio files and add copy to help add context.
Give piggyback posting a try. Write a response post to a recent blog post you read. Of course, put your personal spin on it. This is especially easy for my target market of real estate. There's always plenty of blog material to piggyback off a national real estate post. Just make it hyperlocal to your market.
What Other Blogging Tips Do You Have?
Be sure to leave your blogging made easy tips for Nikol in a comment below.