It's finally that big day you've been waiting for as you walk your buyers (or sellers) down the "aisle" to the closing table. You've crossed all the "t's" and dotted every "i" on their closing statement, making sure they got their perfect home or sold it at the best price. This isn't the end of a relationship, in fact it's just the beginning, and what better way to leave a lasting impression on your clients than through a memorable closing gift?
The Best Things in Life are Personal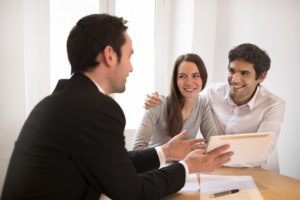 Much of your job as an agent is about listening to your client and figuring out what they need before they even realize they need it. You do this everyday by picking out the perfect location based on things they've said they like or based on which communities have the amenities which match their lifestyle.
It's time to take that attention to detail one step further! When you're coming up with a closing gift for your client, try to make it personal. Whether it's something small or a grand gesture, there are many ways you can ensure they won't forget you after they leave the closing table (And you'll be at the top of their mind when it comes to buy or sell again).
Check out a few ideas below for gifts you can wow your client with:
Donate money to a charity of their choice – If you know they are big supporters for saving animals, or raising awareness about a cause they're passionate about, show you care by donating money in their name. (Not to mention, this gift can be tax deductible!)
Hire a maid service to come clean their house once they've unpacked – Unpacking can be messy and what better way to let them relax than to have a professional cleaning service come in and relieve them of the stress of cleanup.
Buy them dinner at a local (or favorite!) restaurant – this will not only help them get to know the area, but it also means they don't have to worry about hunting for the box that holds the pots and pans.
Throw them a catered house warming party.
Subscribe them to one of those monthly "box" shipments based on their interests.

Barkbox/Meowbox- for families with cats or dogs

Hello Fresh- food delivery service perfect for people if you know they are foodies

Naturebox – a snack subscription for your health conscious clients

Hire a handyman or landscapers/lawn service on a retainer – Let's be honest–things break, life gets busy, and grass goes un-mowed and weeds un-plucked, why not help your client out by providing these services at no cost to them.
Pay for a photoshoot in their new home or commission a painting of their house – Great for both buyers and sellers. If someone is selling a childhood home or purchasing their first house, this is a great way to capture a memory that they can keep with them.
Send a gift card for anniversaries, birthdays etc. – If they have kids why not send them a gift card for their birthday? Or maybe send a gift certificate to your client's favorite store or restaurant on an anniversary.
A run-of-the-mill, unpersonalized gift will be forgotten or thrown away, but a personal experience is something they will never forget. People won't necessarily remember the things you bought them, instead they'll remember the way you made them feel. By showing that you still care even after you've closed their transaction, your clients will want to refer you to their friends and family whenever they're looking for a realtor in the future.
Looking for More Creative Ideas?
Tune into other Tuesday Tips! We post new bite-sized marketing videos every Tuesday. For more creative ideas, find out about working with one of our Marketing Specialists by starting a Marketing Retainer. Contact our sales team for more information.
P.S. Miss Our Video on Google Posts? Watch it now!