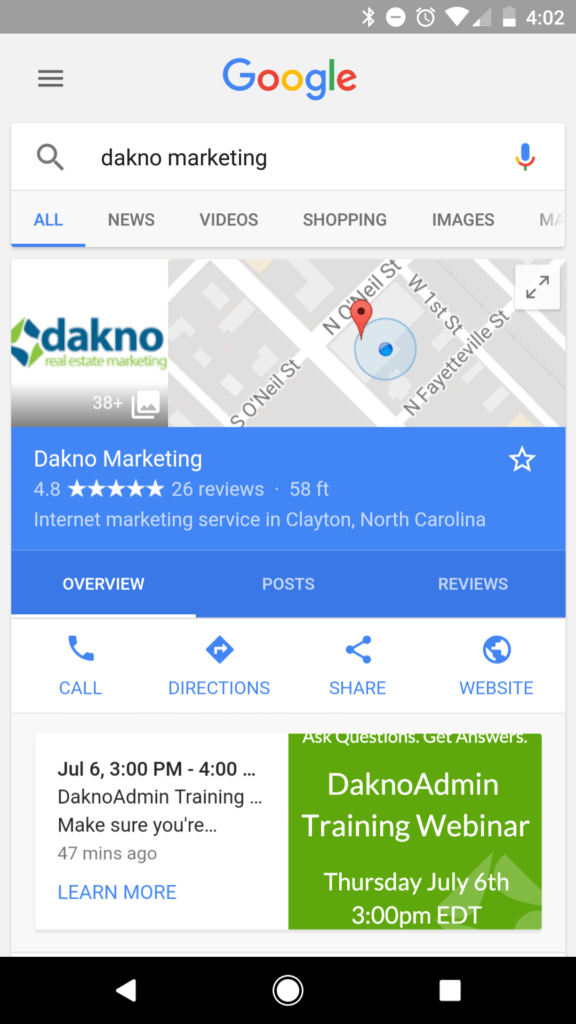 If you've watched our Tuesday Tip video for this week on Google Posts, then you already know why you need to be utilizing this fantastic free new feature. Now it's time to learn how!
What You'll Need
Post Type
Google Posts is an awesome new feature that lets you highlight a specific thing you want to promote about your real estate business. So first you need to decide what kind of post will you be making. Is your post about an event such as an open house? An offer or time-sensitive deal? Do you have news to share? Or maybe you're promoting a new "coming soon" listing.
Photos
The next thing you're going to need is a high-resolution photo (minimum resolution of 720px by 720px) that represents what you're posting about. Your photo should be simple, direct, and in focus. Keep in mind that while Google Posts requires a square image, it will sometimes be displayed as a rectangle.
Title
If you're creating an event you'll need a title. Describe your event in 4-5 words. You'll only have 58 characters for your title.
More Details
Keep this short and sweet! Briefly describe your offer or event. This section should be from 150-300 characters.
Call to Action
This is an optional section where you can include instructions such as "Buy," "Learn more," "Call," or "Visit."
What to Do
Now that you've decided what you're posting here's a step-by-step guide on how to do it.
Navigate to your Google My Business listing (https://business.google.com/manage/#list)
Just below "Home" in the left main navigation you should see "Posts" (it may even say "New" beside it). Click here

Click where it says "Write your post"

Add your image. Remember! Make sure it compliments your post. Feel free to get creative and overlay text on your image using Canva, WordSwag, or Pablo (The image size should be at least 720px by 720px)

Write Your post (Google limits you to about 300 characters)
You can choose to "Make this post an event" (if applicable)
You can "Add a button" and include one of the following "calls to action"

Learn More
Reserve
Sign up
Buy
Get offer
One More Thing!
Once your post has been created you can go back and check the activity. You'll be able to see how many times your post was viewed and how many times your customers clicked on your button. This is an excellent way to measure client engagement. Find out what they like and what doesn't get as much of a response. You can then begin to tailor your content to what's working.
Looking for More Guidance?
We're always happy to help with marketing tips and new projects. If you'd like to build your own personal marketing strategy with one of our marketing experts give us a call at 919-877-8511 (press option #1) to find out about getting on one of our marketing retainers.
P.S. Miss Our Video on Google Posts? Watch it now!