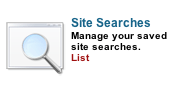 IDX users can now save searches to their control panel, rather than using the property organizer. This allows for more URL customization, easier saving, and lowers the chance of accidental account deletion.
We've expanded the functionality of the daknobar to include options specifically for managing your site searches.
Simply log into your admin panel, and visit the front page of your DaknoIDX search. Once you have your search parameters selected, you can hit search and then "Save Search As" once you are on the results page.
You'll be prompted to name your search. We recommend naming it something that's easy to understand what the link is for. So if you searched for homes in Danbury costing 150k – 300k, a possible name would be danbury-homes-150k-300k.
If you click on the "Manage Searches button, you'll be taken to the full list of all your site searches (you can also click on the Site Searches module link in your admin panel). Here you'll be provided with all the links available to you for each saved search (results, modify, rss, save) to make it easy to share the link you need on your website, blog, email, etc.
We also provide a migration tool if you'd like to move your previously created searches (be sure they're yours and not your client's as this disables the property organizer account associated with that email!) into this management system. This tool will automatically create redirects so the previous links will not be broken. If you'd like to create new, friendlier, URLs with the method described above we recommend that you re-save the searches on an individual basis and update the links manually without using the redirects.