Recently a discussion took place on our Dakno Facebook Fan page with the question "what do buyers search for first, a property or a neighborhood?" So what do you think the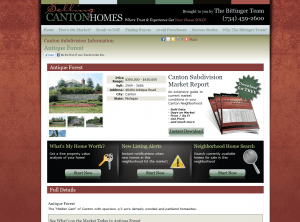 overwhelming response was from real estate professionals? Neighborhoods! Whether you agree or not, there's no denying how important neighborhood information is to buyers. The next question for real estate agents is, does your real estate website fulfill this information vacuum?
Are Your Bags Packed? It's Time to take a Trip!
Real estate websites should treat the site visitor as if they had never laid eyes on your neighborhoods. Agents should take the 180 degree trip to the world of a buyer. What information would be helpful to inform a buyer about a neighborhood? Asking that question is crucial. Agents should give careful consideration what type of information would be beneficial to a buyer especially ones who may have never heard or seen of a particular community/neighborhood/condo building. This takes on even more importance if properties in that community match a buyer's search criteria.
The Mother of All Neighborhood Details List
Okay, that was a bit of a stretch but, take a look at this checklist of information. Do your neighborhood pages offer similar information?
Community Name
Available properties for sale
Google map of the neighborhood with Streetview
Total number of homes/properties in the community
Water & Sewer (city/community well/property owner's well)
Min/Max price and sq ft of homes in the neighborhood
Architectural style of properties in the community
Photos of the community. It is recommended you upload 10-12 images minimum.
Video tour of the community. Video of the seller stating why they bought in the community in the first place.
State the best selling point of the community
List any and all features and/or amenities of the community. Include the HOA dues or other cost associated with the community (country club dues)?
Features within the community that make it stand out from other neighborhoods
Offer a comparison of another similar neighborhood
Schools- if they public and private schools for or near the neighborhood are notable, the school names should be mentioned in the content. Please list here.
Provide details on the history of the neighborhood:
When was it built?
Name the developer of the neighborhood
Name the builders of the homes
Floor plans
Proximity to places from the neighborhood that would make it a desirable location. Example- walking distance to the beach, minutes from downtown, 2 miles from Harris Teeter & Whole Foods, 25 minute drive to the airport, 8 minutes to "ABC Name" Hospital,
List any neighborhood organizations/examples- Women's Club, Garden Club, Bridge Club, Shuffleboard, Runners Club, Swim Team, ect
List any scheduled community events/ examples- Annual Yard sale, 4th of July Parade, leaf collection 4 times in the fall, Annual Easter egg hunt
Mini market reports for each neighborhood. These mini reports could include information like recent sold data, average DOM, LP vs SP, absorption rates, % of distressed properties and more.
Condo Building Information Checklist
Building Name
Building Address
Google map of the condo with Streetview
Available properties for sale
Total number of units in building
Number of stories
Price range of condo units for sale in building
Sq Ft range of condo units for sale in building
Range of bedrooms available per unit
Interior and exterior photos of the building. Upload 10-12 images
Video tours. Video of the seller stating why they bought in the condo building in the first place.
The best selling point about this building
List any features and/or amenities of this building (Examples: 24 hour staffed security, onsite gym, onsite parking, onsite spa, onsite dry cleaning, onsite concierge)
HOA fees associated with the building
Proximity to local restaurants, hot spots, parking, retail, and nearby lifestyle options from the condo building. This would impact the desirability of the building.
Provide details on the history of the condo building/development:
Developer/builder
Floor plans
Mini market reports for each condo building. These mini reports could include information like recent sold data, average DOM, LP vs SP, absorption rates, % of distressed properties and more.
Neighborhood Comparisons
If there's one thing the web has taught us, site visitors of all persuasions love to compare. Using the compare and contrast logic, think about how successful sites like iTunes, Amazon and Ebay have all tapped into this functionality. Every time I purchase a song from iTunes, the site says to me, "Bobby, you purchased XYZ song and we think you will like this song." Real estate websites should consider offering a similar user interface (functionality) by saying, "If you like XYZ neighborhood, you may also want to take a look at this similar neighborhood nearby." Grouping neighborhoods/condos by category also helps buyers compare as well. Just make sure the buyer is comparing similar neighborhoods and condo buildings.
Grab Google by the Long Tail!
By the way, when you write original content based on the lists above adding your keywords for each neighborhood and condo building/communuity, your site will rank better in the organic search results for the "long tail" search for your neighborhoods and condos. It's a fact, buyers who search on the hyper-local neighborhood level are far closer to a buying decision than a buyer who searches on a higher geographic level!
Don't forget, when writing this content make sure it is formatted to be reader-friendly and items are listed in bullet points.
It's Your Turn to Share!
What information do you offer that is unique and differs from these lists? You are invited to comment and leave a link to your neighborhood or condo page so we can see your examples!
Helping you connect with your consumers,
Bobby
Dakno VP of Sales, Bobby Carroll is a noted Real Estate Blog Coach, Search Engine Optimization Consultant and Marketing Expert. To have Bobby speak for your organization or at your event, simply complete this form.