Let's face it, real estate agents are busy people (massive understatement). And in many areas the real estate market is starting to really heat up. That means now more than ever you need to manage your time wisely. Now couple managing more transactions, prospects and continue to content market. It can't stop just because we are busy. We still need to figure out a way to generate great content and stay in the cross-hairs of Google and ultimately in front of buyers and sellers. For some, sitting behind a keyword and blogging will never happen. Even we are guilty of neglecting our blog.   So what's the alternative?
Photo Blogging Works!
If you are the least bit familiar with Dakno, you know we have always been big fans of photo blogs. We recently built a Word Press photo blog for Dakno client Dan O'Halloran up in the Sunapee real estate market. Working with Dan, we determined since adding his photo blog, the time visitors stay on his site has grown. (Google sees his website and sub domain based photo blog as one site in Google Analytics) The average time a visitor spends looking at his photos is over 3.5 minutes. That's excellent! Looking at his top page views, his photo blog is in his "top ten" viewed pages. Don't you want your site visitors to linger longer on your site?
The Dreaded Hello World Placeholder Post??!!
Do you really want your web traffic going to a blog that was launched many moons ago and only has the "Hello World" initial post? Heck no! Sure, we all have the best intentions. We buy tools and sometimes they are never used. Case in point with Eric Burch in the Jonesboro, AR real estate market. Eric knew he needed a blog. He's a progressive guy but writing posts was and still is another story (sorry-bad pun!). Like many busy agents, Eric needs a "caveman easy" way to blog that takes little time and very little effort!
Get Smart with Your Phone!
Every agent by now has a smart phone. And there's a FREE WordPress APP (it's been around for a while). You can download the APP to most of the major smart phone operating systems as seen in the  image. Armed with your smart phone and the WordPress APP, now you're ready to photo blog.
Here's How!
Once you have downloaded the WordPress APP to your phone, you'll need to connect the APP to your WordPress site by entering your URL and login credentials. Once you've connected your phone to your WP blog, you're ready to photo blog.
Easy Steps to Photo Blogging
The following screenshots illustrate how you "write" and publish a post in your APP.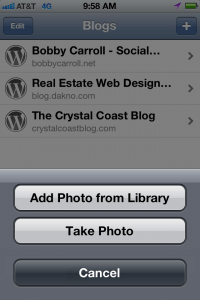 1. First, click the camera icon and choose whether to upload an existing image from your library or take one on the spot.
2.  If you manage multiple blogs and have them saved in your WP APP, you'll need to select which blog the image will appear. As you can see from my screenshot, I have connected 3 blogs to my APP.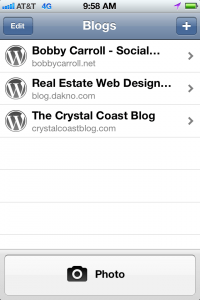 3. Once you select the blog the image will be posted to, you can type in the blog post title and a brief description of the image. When adding your post title and description be sure to add your keywords you want this post to be found by in Google.
4. Now all that's left to do is click "publish" and you have just created a unique page of content!
 Do You Photo Blog?
If you photo blog, please leave a comment and also leave the link to your photo blog. We would love to see it!
Keeping it snappy,
Bobby
Update: If you are concerned about people stealing your images from your photo blog, there is a simple watermarking APP. A special "Thank You!" to Dan O'Halloran for suggesting the $1.99 iWatermark APP. Here's a YouTube video how to use the iWatermark APP.