You may have heard already, but Dakno Marketing is hosting a networking event at our office. This is an excellent chance to hear some great marketing tips from our CEO, Brad, and mingle with local agents. And since you'll be here in person, you'll have the opportunity to ask all of those nagging marketing questions you've always had (like what is local SEO anyway?).
So, When Does the Fun Start?
We'll be holding this event from 4:00pm-6:00pm on September 14th at the Paper Co. Building.
The Paper Co. Building
114 W. Main Street
Clayton, NC 27520
Get Exclusive Marketing Insights
Come on in, make yourself at home! Help yourself to a beer, and we'll get started with Brad's session. He's going to be discussing 5 Marketing Strategies You Need to Implement Today. For instance, are you taking advantage of Geofencing? Do you know what Geofencing is??? Worry not! We'll be discussing this and more at the session.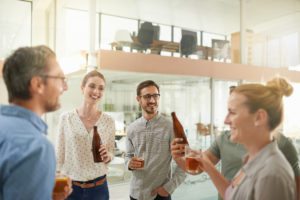 Not only will Brad be dishing up what the latest and greatest marketing techniques are, but he'll be explaining exactly how you can start implementing them today!
Stick Around After for Even More Fun!
Once our think and drink event wraps up, enjoy food trucks, live entertainment, and more across the street at the Clayton Harvest Festival sponsored by Dakno. Listen to the music from the rooftop of the Paper Co. Company, or head across the street to Town Square to mingle with the crowd.
Not in Town?
No worries! We'll be livestreaming the conversation, so you'll be able to tune in from anywhere with an internet connection. We'll be answering your questions in real time, so feel free to post them!
Want to Attend?
Thinking of attending? Be sure to RSVP on our website at www.dakno.com/networking-event. Even though it is a free event, we want to make sure that there are enough snacks and drinks to go around. So give us a heads up and we'll save a spot for you!
If you have any questions, don't hesitate to send them to hello@dakno.com or give us a call at 919-877-8511.
Can't wait to see you there!