When it comes to being a frontrunner in real estate online marketing technology, our team here at Dakno can hold our own. Our programming manager absolutely "crushedit" yesterday by producing a neat little piece of Java script HTML code. Mega kudos to Phil! [See the Java script code Phil wrote for Dakno websites and blogs at the bottom of this post!]
The Little Script That Could!
What so cool about this little piece of Java script you ask? When added to a Dakno Agent Backdoor real estate website or  a Dakno WordPress Blog (in the HTML editor), it will auto generate a QR code for that page/post. Now that's pretty stickin awesome!
Now You Can Bookmark a Real Estate Webpage to Your Mobile SmartPhone's Internet Browser by Scanning the QR Code!
Just scan this QR code with your smartphone QR code APP and bookmark this page in your mobile device's Internet browser. It's that easy!
Early Dakno Adopters of QR Codes!
If you like to see what these QR codes look like, be sure to check out these Dakno real estate websites:
Portland Real Estate Pro Phil Wax
Walter Burns and his Living on the Hudson – Hoboken Condo Mega Site
Move to Lake Mary Real Estate Pros Debbie and Cas Summers
Homes Sales of Tallahassee Real Estate Expert Debbie Kirkland
What Are QR Codes?
For those of you who are scratching your heads wondering what are QR codes, here is a quick update. QR Code stands for Quick Response and it's a two-dimensional bar code that was created by Toyota subsidiary Denso-Wave in 1994.
Where Did They Come From?
Developed in and commonly used in Japan, the QR code is one of the most popular types of two-dimensional barcodes. The reason why they named it a Quick Response code is because the creator intended for its contents to be decoded at high speed.
The Paper-based Hyperlink?
Many bloggers have proclaimed that the QR code has brought paper-based marketing out of the dark ages. While the practical uses of QR codes in print media are considerable, there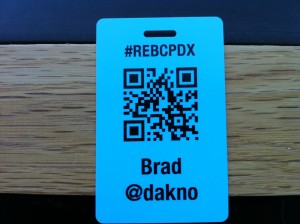 are other compelling ways to use QR codes to drive traffic (and measure that traffic) to your content on your real estate website and your blog. As it turns out, Brad and I showed up at the Portland Beer for Bloggers event (the pre-party for the Portland Real Estate Bar Camp) with our custom made badges complete with QR codes. (Which link where? Scan the QR code to the right and find out.)
Marketers are Having a Field Day Using QR Codes!
The creative juices are flowing as marketers scramble to create innovative (and many cases viral) uses of QR codes. Outside of the obvious use of placing QR codes on for sale signs, what other creative ways have you seen agents and agencies use QR codes? I look forward to reading your comments how real estate agents and agencies are using QR codes in your business! Happy scanning! Bobby
P.S. Join Us Tuesday, September 14 at 2PM EDT for AllAccess!
Today at 2PM EDT I will be discussing "All Things QR Codes" during our AllAccess live stream! If you want more information about AllAccess, just click over now to the Dakno AllAccess Live Stream blog for more info.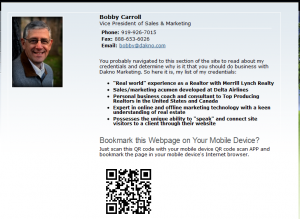 Oops! Almost forgot the most important part… the Java script. Just copy and paste this code in the location you want the QR code to appear in your Agent Backdoor website or your Dakno WordPress Blog HTML editor view.