The other day someone asked me. "If you could only make one edit to a website to achieve better search engine optimization, what would it be?" After clarifying that the edit had to be on the site (meaning link building wasn't an option) I responded by saying that tweaking the Title Tag would probably be the first place to start. Now keep in mind that I am speaking in generalities here. Each website is different and has different needs. For example, if your title tags are great but you have zero original content on your site, then obviously real estate copyrighting would be at the top of your list.
Just for a moment let's assume that your copy is original, you are building creditable links but still need that extra push to get to the top. That's where title tags come in.
Before we get too far, let me first make sure everyone is on the same page and understands what a Title Tag actually is! A title tag text appears in two main places, at the top of the internet browser (Internet Explorer or Firefox) and as the headline in search engine search results (see graphic).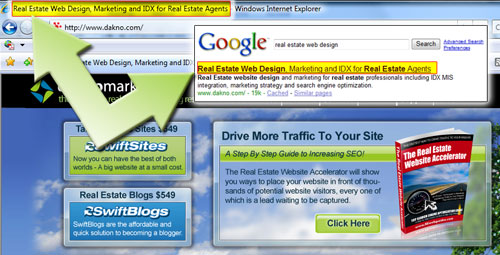 Most people treat the Title Tag as if it's only viewable to search engines. So they cram as many random words as they can into their title tag. The reality is that this strategy does more harm than good for a number of reasons. The main reason being that the title tag is crucial for getting visitors to actually click on your site. Remember, the title tag is used in search results. So the text must compel the site visitor to actually click on your site. After all, what good is being at the top of the search engines if no one ever clicks on your site! So don't just stuff your title tags with all your keywords. Try to create a title tag that is a coherent thought!
Okay, this post is supposed to be about SEO so let's get into the SEO side of title tags…
The Formula for Title Tags
The first Formula for Title Tags is that there is no formula. I see many people using formulas like City Name Real Estate – Page Name as the title tag for every page of their website. While this is better than the famous "Untitled Document", it is too formula driven. Try to vary the information a little more. For example, let's say you have a website about Miami Beach Condos. Instead of using Miami Beach Condos for all of your title tags, use variations such as Miami Beach Condominium, or Condo for sale in South Beach.
Google Searches = Good Title Tags
If you want to be found for a specific phrase, make sure that phrase is the first words in your home page's title tag. Using the same example from above, it's logical that someone would search for "Condo for sale in South Beach." So it's important that you then use that phrase as a title tag. And remember to think about your site visitor. Someone searching for "Condo for sale in South Beach" in Google more than likely wants to see a selection of condos. Therefore the most logical place to use this as a title tag would be a MLS search page. Likewise, someone searching for Miami Beach Realtor is probably searching for someone to sell their condo. Therefore, be sure to include this phrase in the title tag of the sellers page.
Thematic Title Tags vs Keyword Title Tags
While it's important not to repeat the same title tag keywords throughout your site, you do want to stick with a common theme. Here is a random sample of Title Tags from KevinTomlinson.com
South Beach Condos, Miami Beach Real Estate Condos For Sale
Miami Beach Real Estate News, Articles and Resources
Miami Beach Condominium Realtor Kevin Tomlinson
Miami Beach Real Estate Agent Discusses Condo-Hotels in South Beach
How Much Is My Miami Beach Condo Worth
Sell Your Miami Beach Condominium
Pre-Construction Condos For Sale in Miami Beach
Miami Beach Real Estate Questions about Pre-Construction Condos
Miami Beach Florida Pre-Construction Condominiums
Here is a random sample of his building page title tags…
Akoya Miami Beach Oceanfront Condominium on Collins Avenue
Canyon Ranch Living Miami Beach Condo Residence on Collins Ave
Murano at Portofino-South Beach- Bayfront Miami Beach Condo in South of Fifth
Regent Bal Harbour Condo Hotel, Miami Beach Real Estate
St. Regis Bal Harbour – Oceanfront Residences in Miami Beach
W South Beach Preconstruction Condos in Miami Beach
Capobella Miami Beach Real Estate and Oceanfront Condos
Notice how there isn't an exact formula for each title tag. It isn't Miami Beach Real Estate – Building Name. But by varying the format for each title tag, I am able to cover lots of different keywords all centered around one theme. Miami Beach Real Estate and Condos.

Lose Your Name and Company
You only have about 70 characters (including spaces) for your title tag so don't waste that precious space on your name or company name. Too many times, Real estate agents will have title tags like City Name Real Estate – Agent Name – Company Name. Chances are you will still rank well for you name even without it being in your title tag. Plus, very few people will actually search your name. Instead, focus on those core key phrases with the big payoff.
A Few More Tips
This post is getting a little long so I will close with a quick recap and a few more tips…
Title Tags are more than just for SEO, they are also used to get people to click to your website.
Don't keyword stuff your title tags
Try to make your title tag be a complete thought
Stay away from strict formulas when writing your title tags
Base your Title Tags off of Google Searches
Use synonyms to create a consistent theme throughout your website title tags
Avoid using your name and company name in your title tags
Don't use superlatives in your title tag (Best, #1, Greatest)
Google skips over common words like "the" "in" "of" so don't waste precious characters with these in your title tag.
Word order is important, put your critical keywords at the beginning of your title tag
Make sure EVERY page on your website has a unique title tag