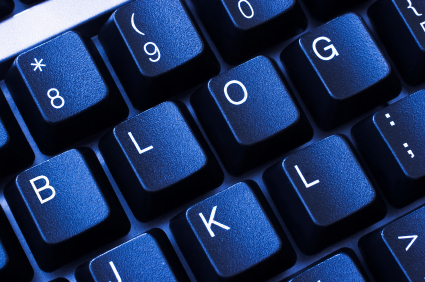 Some people out there may be "on the fence" about becoming a real estate blogger. So let's cover a few of the basics and determine if you're up for the blogging challenge.
Let's start with the basics.
Blogging is frustrating, time consuming, and is basically you just giving away information – for free! So why would anyone want to become a blogger? Personally, I think it's an easy choice. Blogging gives you a chance to show your audience that you are a trust-worthy expert who believes in open communication – in other words, a chance for you to be seen as a "trusted adviser." But that's not all, there are many other benefits. Personally, I think the Search Engine Optimization value alone is reason enough to start a real estate blog. But it's also a great lead generator and a wide open opportunity, after all, the National Association of Realtors state that only 5% of Realtors are blogging.
Time Commitment of Blogging
I mentioned earlier that blogging can be time consuming. There are actually lots of ways to help offset that time commitment (we will get to that in a second) but first, let's address the issue of the time commitment. Imagine someone called you and wanted you to keynote in front group of hundreds or even thousands of potential clients. As a real estate agent, you would probably jump at the opportunity. The time it would take to write your speech would be well worth it. In other words, with all marketing, there is a cost. But the return on investment for blogging makes it all worth it.
But I'm Not a Good Writer
Blogging isn't necessarily about being the world's greatest writer. Instead, it's about being able to communicate with your audience. It's about finding your "voice" and using your unique style to speak with your audience. And remember, you don't have to do it all yourself. There are plenty of ideas to help offset the task of keeping your blog updated.
You Don't Have to do it Yourself
Okay, I am sure some of the blogging "purest" are going to disagree about the whole ghost writing concept. But the reality is that having others help add content to your blog is a great solution to keeping it updated.
Ghost Writers: Good copywriters can write to emulate your voice. They have the added benefit of being able to effectively work in the correct keyword density that help makes the Search Engines happy.
Preferred Partners: Your preferred partners are a great resource to help add content to your blog. I am sure your mortgage vendor or local handy man would love the opportunity to contribute to your blog in exchange for free advertising.
Business Owners, elected officials, school board members, etc. are also great resources to pull from. But make it easy on them. Provide them with a list of questions that they can easily answer. Basically conduct an email interview.
I'm ready. But Where Do I Start?
Avoid the temptation of simply going to WordPress.com or Blogger.com and creating a few blog. This provides little SEO value and can get you started in the wrong direction. Instead, find a solution that gives you total control. For example, our SwiftBlogs are affordable and are extremely scalable. In other words, your blog can grow with you. There are thousands of plug-ins that you can add to your SwiftBlog including Podcasting, multimedia and other features.
So are you cut out to be a real estate blogger? Would you like to know more about blogging and ways to go about getting a blog site set up? If so, leave a comment.
Training an army of real estate bloggers,
Brad