I admit it. Like a moth to a front porch lightbulb, I'm attracted to shiny objects. Something about being an early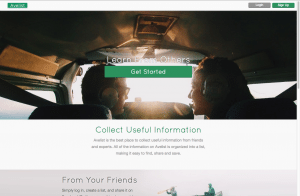 adopter of the bright and shiny is exciting. Granted, I have become enamored by past platforms that died on the vine. Anybody remember Posterous? Jeremy Blanton will never let me forget that one.
A New Discovery – Avelist, The Useful Website
As a subscriber to the Triangle Business Journal, I was intrigued by an article on 10/28/14 with this headline;
This CEO sold her house to fund her company
I was hooked. Written by Bizwomen reporter, Caroline McMillan Portillo, the article chronicled how an ambitious SAS employee, Jody Porowski and partner, Josh Jodrey, launched an online platform in 2012 "for people to find and share information — all in list form".
I like lists. Everyone likes lists.
A Bizarre Thing!
On the way out the door at SAS to focus 100% of her time on Avelist, Jody purchased a home. She called buying her home at that point and time a "bizarre thing". Walking away from SAS and its reputation for being the #2 best place to work in all of the USA (just behind some search engine company located in Mountain View, CA) wasn't something easily done.
Jody was determined to turn her real estate investment into cash to bootstrap her new dream. Wise beyond her years, Jody turned her home purchase into a tidy profit. More about that here.
Back to Lists
After reading Jody's story about selling her home to invest in Avelist, I headed over to the platform and began looking lurking about getting familiar with the platform.
Comprised of 42,000 profiles, members post various topics in the form of lists along with a complimentary image. Much like other social platforms, you can comment on posts, like posts, and follow other members.
Check out this video where Jody explains what Avelist is:
This Marketer was Hooked!
I instantly saw the value and potential in Avelist, and took the plunge. Here's my Avelist profile.
Avelist and Real Estate Agents – A Marriage Made in Heaven?
I think Avelist has many positives going for it. Agents can create a robust profile (see my tips below how to pimp out your Avelist profile) and begin posting all kinds of topical lists about their real estate.
Avelist real estate list ideas:
Mistakes buyers should avoid in the real estate process
Mistakes sellers should avoid in the real estate process
Feature your neighborhoods
Showcase the condo developments in your market
Highlight great places to eat
Interior design tips
Top renovation ideas
Your favorite outdoor living spaces
Fun things to do in your city, and so much more!
No! I Didn't Say "LISTINGS"!
I know this plea will fall on deaf ears. Agents, please do not run to Avelist and begin sharing spewing your listings there. Be an expert, not a spammer.
Show Value and Your List Will Trend!
I was fortunate to have my list of "Tips to Pimp Out Your Avelist Profile" featured in the trending section by Jody and her team. If you show value and post top content, your list will trend as well.
Kudos to Ginger Vereen – Raleigh Realtor
Hats off to Raleigh Realtor, Ginger Vereen. She appears to be the first agent to see the benefit to Avelist and put it to good use. Checkout her Avelist post.
Have Questions About Avelist?
If you do, I'm sure Jody will be reading this post and would be happy to answer your questions about her terrific new platform.
Until my next post,
Bobby