Recently I've been sharing recently with our Dakno clients and my friends over at Active Rain about the need to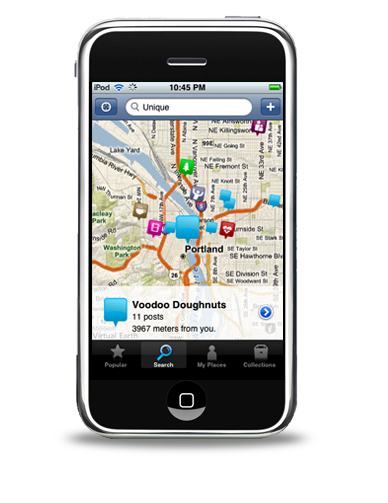 expand their Internet presence by exploring the awesome applications available on the iPhone. Yes, you to can begin to broaden your web presence by using the tools that power the iPhone apps.
Map It Anyway!
Even if you don't own an iPhone, you can begin to map your properties, your favorite restaurants, your area's bike repair shop, or any other significant location by adding it to the website called Platial. Once the business, neighborhood school or your condo building is mapped and properly "tagged", you'll begin to enjoy enhanced search engine ranking as well as maybe a few more site visitors who happen to click over to your blog or website to view more information from their iPhone.
Demonstrate You Are a Tech-savvy Giant of an Agent!
The next time you have a listing appointment, say this to your potential client, "Because it is my fudiciary responsibility is to deliver the absolute best home selling results by helping you sell your property quicker and for maximum value, I utilize every means available to expose your property to as many potential buyers as possible. One of the many ways I accomplish this goal is by syndicating your property on many high-traffic national websites, and I also target the mobile computing tools available on the cell phone." Follow that by saying; "There have been more than 3 million new generation 3G iPhones recently purchased by tech-savvy consumers and many of those same consumers will utilize their iPhone to help them search for their next home. To ensure your home is visible to those users, I will upload your home to numerous iPhone application powered websites like Trulia.com and Nearby (powered by Platial.com). That way I know your home is reaching even more potential home buyers."
If You Use Those Lines!
If you happen to mention what I suggested above and you secure a listing, by all means come back here and leave a comment. Now go map your area and dominate your market (and think about buying a new iPhone especially if you close on that listing you just secured :>).
Until my next post,
Bobby
P.S. For a slightly different take on the same topic, be sure to visit my Crystal Coast Blog – it's your Emerald Isle Real Estate and Rental Resource!
Post Update!
Scottsdale real estate agent Heather Tawes Nelson emailed me to say she dug into Platial.com and discovered from their "Terms & Conditions" that the site doesn't permit commercial advertising. I suggest you refrain from "advertising" your listings on Platial.com. To take advantage of the Google power and the potential additional eyeballs you could capture, I say work the "I recommend this restaurant" or "this condo building is really close to this awesome gym." The way you play by the rules. To me mapping schools, recommending businesses and the like are fairgame. Thanks Heather for the email – good call!