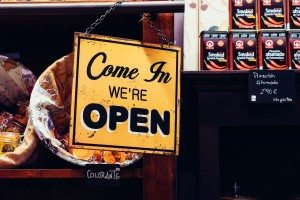 Can you believe it's December already? So much has happened this year, and most recently for us, Dakno Marketing has moved! As of last week we are now officially located in Clayton, NC.
With all the excitement of moving to a new place comes a whole checklist of things you need to remember to do — like turn on the gas, right, Brad? 🙂
One of the most important boxes to check is changing your address…not just physically, but online as well. Your address is posted in so many places, so here's a list of the major ones you'll want to make sure you change:
Your real estate website (both on the footer at the bottom, and on your

contact us page

)

Facebook Business Page

Google My Business profile

REALTOR® profile (and all the rest of your business listings on the web)

Email Marketing (have you updated your signatures?)

Business cards

Stationery

Advertisements (do you have any print, radio, or television ads that might need correcting?)
Be Consistent
Did you know when it comes to SEO, having inconsistencies can hurt your ranking? Not to mention, you want to make it easy for buyers or sellers to find you. Changing your address on your real estate website isn't going to help the client who finds you through Facebook. The good news is there are useful tools to help you determine your consistency.
A good place to start is with your Facebook and Google business accounts. We put together a brief walkthrough to help you get squared away with updating your business location.
Updating Your Company Address on Facebook
First up, changing your Facebook address. You'll be pleased to hear that this process is fairly straightforward.
Log into your Facebook and go to your business page.

Select "About" from the column on the left hand side under your icon.

Click on your address located to the left of the map.

Type in your new address.

Save.
Be aware that changing your address won't automatically change the location on the map. You'll need to manually drag the pin to your new location.
Updating Your Company Address on Google My Business
For some, updating  your Google My Business can be a more difficult page to edit. There's a bit of added security, so it's worth noting you may not be able to change your Google Business address straight away.
Log into your Google Business Account.

Select "About" (NOT "Edit Profile" — Yeah, we know, kind of counterintuitive).

On this page there should be a little blue icon next to where it says "Manage in Google My Business."  Click this.

Your current address should be located directly beneath the blue square with your company name. Click on your address.

This will bring up a pop-up window. Go ahead and change your address.

After you change your address it will prompt you to verify your address by phone or by mail. Not all businesses are eligible to verify by phone; however, everyone can verify by mail. If you select mail, a postcard will be sent to your new address with a verification code. That postcard will have your verification code. When you receive it return to your google business page to type in the verification code.  
When we changed our address we verified our new location via the mail. It may seem like a hassle, but this is the best way to confirm that you really do own this address, and it stops people from registering incorrect addresses. It took less than a week for our postcard to arrive, and while slightly longer than the Facebook process, it really wasn't too bad.
Reinvent Yourself!
Whether it's to a new location or to a different brokerage, moving can be the perfect opportunity for rebranding. Have you been hoping to try out or get a new logo? Want to unveil some tweaks you've made to your site? New place, new you! Make your change of business address a big deal! People will take notice.
We're so excited about settling into our new office, and we hope you enjoy your move as well! If you have any questions about updating your site or social media, give us a call at (919) 877-8511.