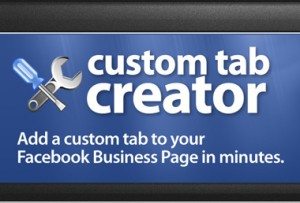 What's the worst thing you can do when someone visits your Facebook Page? The answer may surprise you. Send them to your wall.
That's right. When it comes to converting visitors into fans, the wall ranks dead last in effectiveness. Why? If you think about it, the answer is pretty logical. Web visitors are always thinking, "What's in it for me?" With your wall as a constant stream of updates, you can't really address that main concern. That's where an Incentivized Welcome Page comes into play.
Are You Giving Your Visitors a Reason to Like You?
We actually did some research of our own and decided to answer the "What's in it for me?" question. We started asking everyone we know (and a bunch of people we didn't know) what would make someone "like" a Facebook Business Page. Here are the top responses…
Free Stuff or Coupons – People want "deals." They love contests, giveaways and coupons.
Events – People want to know what's going on in the community. One respondent actually went so far to say "If I knew a local agent was going to keep me updated on all the cool things to do in my area, I would even put up with their spam!"
Social Connectivity – people love to connect with others who share the same interests.
Now that we have this insight, it's just a matter of creating a "Welcome" tab that addresses these items. There are a few ways to accomplish this.
Creating an Incentivized Landing Page
Reggie, over at My Tech Opinion, put together a great tutorial on how to add a custom tab to your Facebook Page. However, there are 2 problems with this approach.
Facebook makes it labor intensive. As you can tell, there are quite a few technical steps involved.
Users who are using Facebook's new "secure browsing" won't see your page but will instead see a warning message. Talk about killing your conversion rates! You can purchase a SSL Certificate but that can cost you over $100 a year.
I wanted a simpler way to easily pull in content from external pages directly into a custom tab. So when we saw there really wasn't anything available, we decided to create a Facebook App to do just that. The result is our Custom Tab Creator. The approach is simple. Install the app on your page, point to the landing content you want non-fans to see when they arrive at your page, and click done. It's as simple as that. The app pulls the content from your site and integrates it into Facebook. No worrying about Developer Apps, Secure SSL Certificates, FBML, etc. It just works.
Configuring The App
The Settings Configuration Page is dead simple. You'll probably want to show different content depending upon if the visitor to your Facebook Page is a fan or not. After all, there's no point in showing a page that says "Click Like" if they have already liked your page. With this in mind, we have given you the ability to pull in content from two different sources – one to show Fans and one to show Soon to be Fans. And don't worry about the App pulling in the wrapper of your site (after all, it would look weird if your entire site – header, menu and all were pulled into Facebook). The app gives you the ability to tell it to only pull in the main content and not all the other design.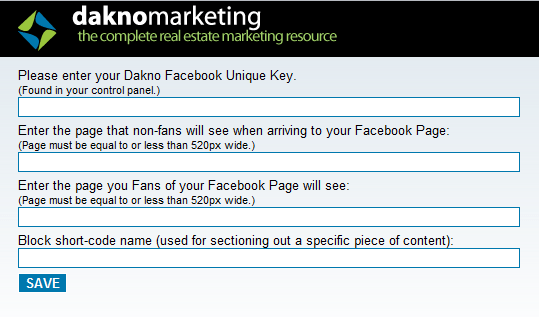 What If You Can't Design a Facebook Page?
If your website doesn't allow you to create additional pages or you're not up for laying out your own content, we still have you covered. In fact, we've created prebuilt Welcome Tab templates that you can use for your Facebook Page. This means that you can literally be up and running with a Welcome Landing Tab on your Facebook page in about 60 seconds.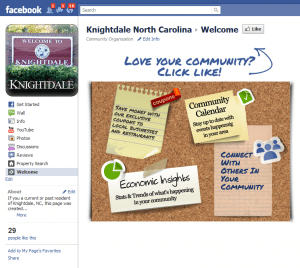 Free to Clients with AgentBackdoor
If you're a Dakno client with an AgentBackdoor site, you already have this Facebook app available to you at no charge. Check out the instructions on how AgentBackdoor site owners can install the app for free.
Don't Have an AgentBackdoor Site?
If you don't have an AgentBackdoor site, you can still take advantage of the handy tool. The cost is just $9 setup and $5/month. Yup, that's it – No contracts or commitment. Remember, by using this app, you eliminate the need to spend the $100/year for the security certificate as we take care of that for you.
Ready to get started?
Visit the Facebook Custom Tab Creator Page for more information and to purchase the app.
Are You A Fan of Dakno?
We recently installed the Custom Tab Creator on the Dakno Facebook Page so you can see an example of what is possible. Check it out – And be sure to become a fan!