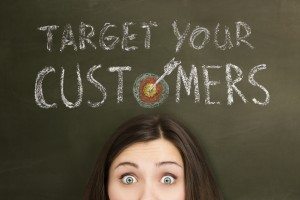 Do you always feel like somebody's watching you? Did those great shoes you were thinking of buying the other day just pop up on your Facebook feed? It's spooky, isn't it?
It's no coincidence, it's called retargeting.
So You've Noticed Us, Noticing You
You do a lot of work to drive traffic to your real estate website. Blogging, social media, SEO, pay-per-click ads, postcard campaigns, drip messaging … all of that can be overwhelming, and can take up a fair amount of your time and money.
The biggest problem with that investment is this: Many visitors who land on your site via those methods never come back.
Well, now there's a way you can follow up with your site visitors to remind them of your services, and even qualify those leads as you do so. The amazing thing is it's very easy to do and costs far less than you might think.
What is Retargeting?
It's pretty simple really. Retargeting, or remarketing, is anonymously keeping track of who visits your site then displaying your ads on the sites they browse afterward.
When potential clients visit your website, Dakno (or another retargeting provider) places a piece of code, or a cookie, on their browser. (They don't need to sign up or fill out a form.) This cookie then follows them after they leave your site and displays your ads to them on sites they visit later, including Wall Street Journal, Forbes, and even Realtor.com.
This ensures that only people who've shown interest in your site see those ads.
Interesting Statistics About Retargeting Advertising
CMO outlined 15 mind-blowing statistics about retargeting, and a few of them stood out:
98% of visitors leave your site without converting
400% boost in ad response with retargeting
70% more likely to convert on your website with retargeting
30% of consumers have a positive or very positive reaction, and only 11% react negatively
60% of consumers have noticed retargeting ads after visiting the advertiser's site
How Can Retargeting Help My Real Estate Business?
Retargeting ads keep you on the mind of these potential clients.
With retargeting campaigns, you're reaching people who have already shown a prior interest, thus giving you a second, third, and fourth chance to bring them back. You can increase the likelihood that they will come back to your site, spend more time browsing, and in the end, take action.
Other benefits to retargeting include:
Higher click-through rate
Higher conversion rates
Lower costs — retargeting is one of the most cost-effective marketing strategies
Improved brand recall
Target potential sellers
Capture buyers who look at MLS listings on your site but leave before offering their contact information
Keys to Success in Retargeting
It's not enough to just virtually follow potential leads. It's important to follow best practices to ensure you are getting the optimal ROI.
1. Vary Your Ads
If potential leads are seeing the same ads over and over again, they are going to stop noticing them. Make sure your ads are attention grabbing by switching them up from time to time.
Also, use several different ad sizes so that you have an appropriate ad to fit any available space. The most common ad sizes are banner and rectangle.
2. Make Clear Calls to Action
Retargeting ads aren't very big so be clear and concise in your call to action. Tell your audience exactly what you want them to do and why they should.
3. Create a Targeted Landing Page
A landing page is the page of your site your retargeting ad will send the potential lead to. The best landing pages are relevant and free of distractions.
You're in control of what the visitor sees. Give them the information they are looking for and encourage them to take action. Don't offer too many other buttons that will lead them away from the lead capture.
4. Track Your Conversions
Evaluate the performance of your retargeting campaign to understand what's working and what isn't. The primary goal of retargeting is impressions, which makes it difficult to track conversions. However, using analytics on your landing page can allow you to see what steps your visitors are taking before they convert.
5. Start now!
Google requires a minimum of 100 active visitors in the past 30 days in order for your ads to starts being shown. The sooner you activate your campaign the sooner you will start getting conversions.
Convert Visitors into Leads and Leads into Clients
Now that your retargeting campaign is bringing your visitors, it's your job to convert those visitors to leads and those leads to clients. Ready to start your own retargeting campaign? Get in touch with us today!